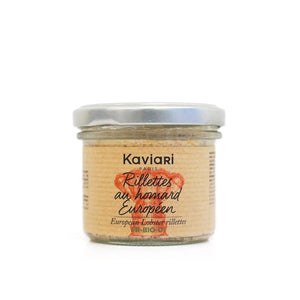 Do not hesitate to taste them, their unique flavor will transport you.

This land-sea association will delight you wherever you are in the world: United States, Canada, Spain, Philippine
It is absolutely necessary to taste the products of this famous Kaviari house, which prepares its rillettes with quality ingredients and without additives or preservatives.


Discover without waiting this jar of lobster rillettes with foie gras, cooked in a traditional way that will delight the taste buds of the whole family.

The ingredients are simple but always of high quality, including 45% fish and 20% European lobster meat.
To consume within 48 hours after opening and to keep between 0° and 4°.

 So Bon Appétit!!